THE NEXT EPISODE.
(Mark Morrison looks like the bastard child of Grace Jones. Akon straight stole his style btw)



Yes I did.
It indeed is the
Return of the Mack
. Thank you for all of your correspondence. I believe in what I'm doing here. I believe that even if this gets read once by someone I don't know it's getting the job done. What is the job. Building community for Butch, Stud, Dom, masculine type women. Addressing the issues of gender, isolation, and health to name a few. I'm going to start active recruitment first by having real conversations with other masculine women. Again if you are interested in getting up with The Butch Caucus let me know what's on your mind. Send me an email.
I know I've been out the loop for a minute.
Here's what I've been getting into...
I am attempting to author a play about how relationships are built and destroyed. It's called "Playing Myself" excerpts soon come.

I've also been developing a new hobby: cruising Craigslist for postings deliberately soliciting the company of a butch/boi/dom/stud woman.



Here are some of the more interesting ones.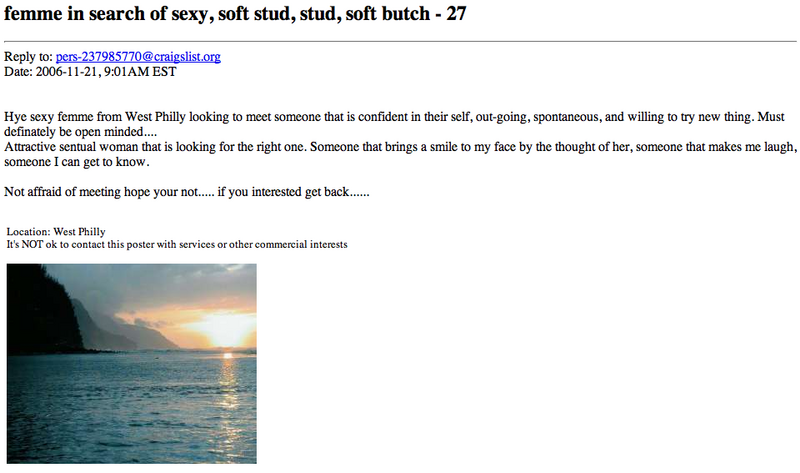 Not that I don't consider myself "sentual", I just don't know what that means. She sounds hopeful enough. "

Someone that brings a smile to my face by the thought of her, someone that makes me laugh, someone I can get to know.

" What's behind that sunset stock photo? You'd be surprised. This is Craigslist.

I like this one. She's pretty straight up. She even mentions a love of chocolate. Nice. I know what to bring along. Then it goes all WNBA. Slim Tall Butch. Next.
I have expounded at length the dangers of the Corny butch. The science of the

CRAZY B*TCH

is soon to follow.
Here
are some of my own non comprehensive classifications

:
The overtly obvious crazy bitch.

The undercover or secret psycho.

The "seemed like a nice girl" girl.
Exhibit A
: The Overtly Obvious.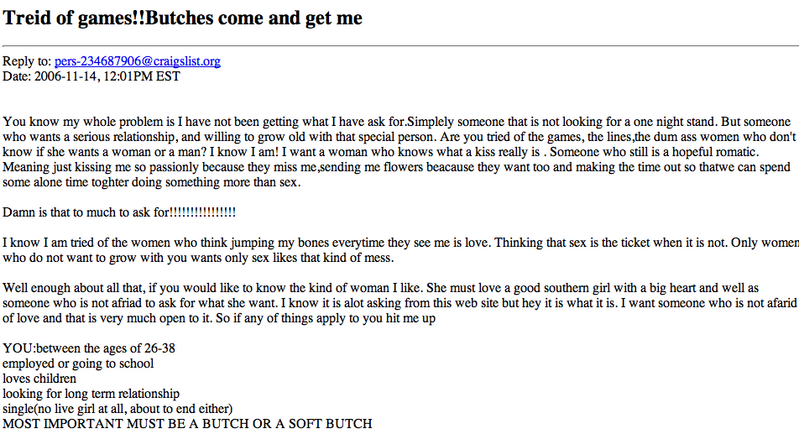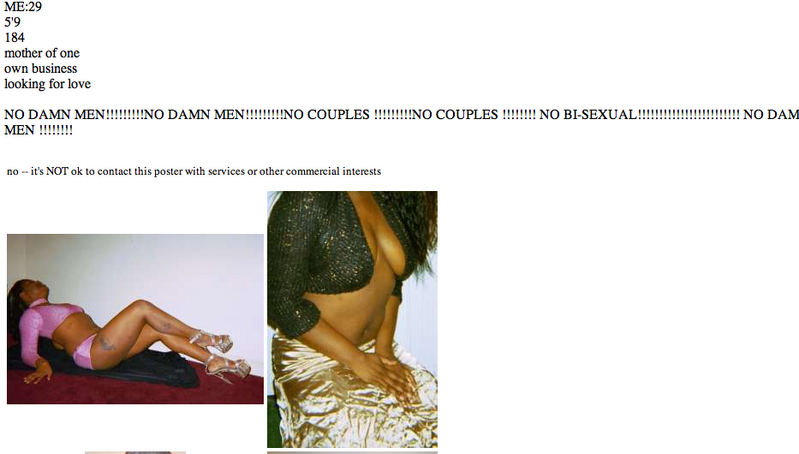 Women like this scare the hell outta me. Why, because you can already see the insanity. The woman goes on to post again and again a total of 10 times in 3 months. Why do you think women aren't responding. Hit me back let me know. I'll play stupid.
It's always important that a woman, any woman, know how to spell.
"TREID OF GAMES"
the title reads. She goes on to use "treid" several times in her posting. I have used context clues and simple deduction to conclude that she's trying to spell
tired
. Dyslexia aside. This isn't the only faux paux in this post. Its gets super wrong. Like incorrect. To top it off she's continues to avoid the numerous hints that a.) no one is interested and b.) folks are a little scared. I'm not sure if she's received any responses. She prolly has. I contend that there is someone for everyone.
Everyone.
Then again, I think that some folks have been through everyone. EVERYONE. S
he's posted at least 5 times, this month which is indicative of lack of response.
After reading through many similarly awkward postings I feel like I should do a clinic or a workshop, one of the many topics would be grammar and creative writing, but then again. I'm not interested. I'm just "treid".
I'm back y'all. Keeping checking back. 'Cause Ima be getting up. *sb*